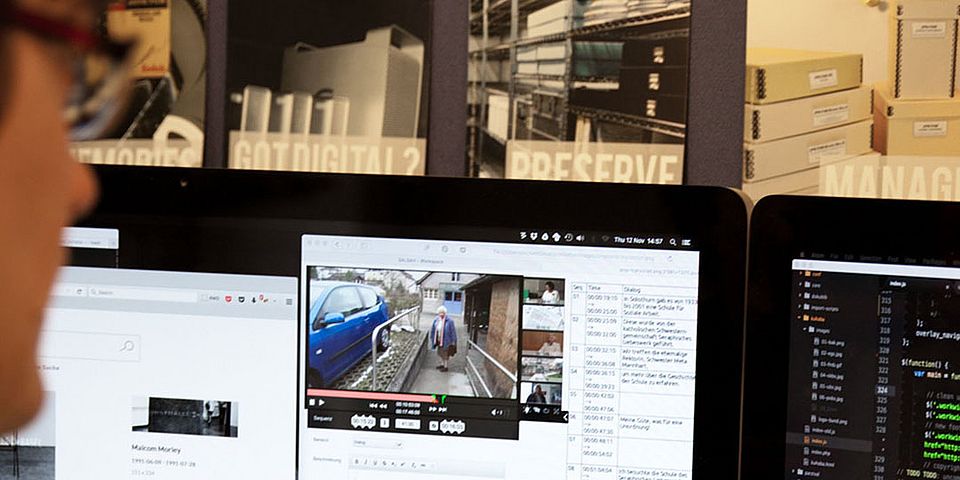 Digitalization is fundamentally transforming almost every aspect of our society, including the sciences. In the humanities and social sciences, digitalization and networking open the door to novel ways of exploring culture and society. The aim of the Digital Humanities study program is to familiarize humanities and social sciences students with these new forms of research.
The Digital Humanities course teaches students how to apply and reflect upon computer-assisted and experimental processes in the humanities and social sciences, combining technological knowledge and methodological skills with problems from research in their respective subjects of study. Students can specialize in one or more subject-related applications according to their interests. The program gives students the opportunity to engage in a wide range of activities in culture and media, science, memory institutions and business.
Focal areas of teaching and research
The humanities and social sciences interpret the testimonies of human societies, their texts and language, their institutions and buildings, their images and music, their films and games, their everyday and extraordinary objects. Digitalization changes the way in which these testimonies are generated, shared and stored, and thereby our understanding of culture and society. This gives rise to new methods of presentation, analysis and interpretation. Moreover, networking creates entirely new ways of combining data and expanding our understanding of culture and society. Typical fields of work in the Digital Humanities therefore include
data modeling of cultural and social objects and processes,
editions of cultural and social testimonies,
creation and structuring of databases, information systems and infrastructure (especially for cultural heritage institutions such as archives, libraries or museums),
programming and retrieval in large data collections on society and culture,
creation of corpora and collections for scholarly research,
statistical and experimental evaluation of data on culture and society.
The Digital Humanities course at the University of Basel teaches theories, concepts and methods of computer-based and experimental research in the humanities and social sciences. As a student, you will learn how to model questions in the humanities and social sciences (particularly in your second master's degree subject), translate them into digital and empirically verifiable processes, and implement them at the technical level.
The Digital Humanities combine the humanities and social sciences with computer science. Accordingly, Digital Humanities are studied in conjunction with another master's degree subject in humanities or social sciences, such as archaeology, history, linguistics, political science or sociology. The subject does not require a bachelor's degree in computer science, but builds on the knowledge acquired in a bachelor's degree in humanities and social sciences.
Program structure
A master's is a second degree that a person can earn after completing a bachelor's. The master's program requires a total of 120 credit points (CP). The Master's Degree Program in Digital Humanities is combined with a second degree subject, each worth 35 CP. The subject in which students write their master's thesis (30 CP) is considered to be their major; the other subject is their minor. Free electives (20 CP) are also included. One ECTS credit point equates to approximately 30 hours of work.
Master of Arts (120 CP)
Major of the Faculty of Humanities and Social Sciences
65 CP (35 CP + 30 CP for the master thesis)

Minor of the Faculty of Humanities and Social Sciences
or extra-faculty
35 CP

Free electives
20 CP
Two degree subjects
Combination of subjects
Students are free to select a second master's degree subject that meets their specific interests. Students can choose a subject offered by the Faculty of Humanities and Social Sciences or a subject from another faculty. 
Students are free to choose any free elective. These courses allow students to deepen their knowledge of their degree subjects, gain an insight into other degree subjects offered by the University of Basel, or acquire language skills.
Career opportunities
A Master's degree in Digital Humanities in combination with an additional subject provides access to a diverse range of career opportunities in a rapidly evolving professional environment. Virtually all professions today require advanced knowledge of computers, databases and the Internet. Graduates of this course of study may be interested in activities that combine independent work with technological, cultural and social knowledge.
If you are interested in pursuing an academic career, you are invited to apply for a <link de doktorat external-link-new-window internen link im aktuellen>doctorate or doctoral position after completing your master's degree.